Lexington, Ky – November 16, 2023
Kentucky fans have seen Rob Dillingham go on scoring streaks already this season. He scored 40 points in the Blue-White game in October and he's show flashes at other points through exhibition season and now in the regular season.
The rest of the nation got to see Dillingham do his thing on Tuesday night. The freshman hit four three-pointers in a row as Kentucky turned a deficit into a lead late in the first half against top-ranked Kansas. Ultimately, the Cats came up short, falling 89-84.
Dillingham and the Cats host Stonehill on Friday night at Rupp Arena. The Skyhawks are 1-3 this season and are coming off a 100-56 loss to Saint Joseph's on Tuesday.
The Kentucky coaching staff loves Dillingham's explosiveness but at the same time, they're trying to teach him, as well as the other talented freshmen on this year's roster, when to go and when to dial it back a bit. Assistant coach Chin Coleman touched on that Thursday.
"There's a thin line between being aggressive and understanding situational awareness and trying to score," Coleman said. "We've got to help with that. We want our guys to be aggressive but we want them to be aggressive understanding how aggressive I need to be depending on the situation. We've got to help them with that."
Dillingham could have gone to another school where he would have been the star and could shoot as often as he liked. But Coleman knows why Dillingham came to Kentucky.
"There's a premium on winning here," Coleman said. "He came here because he wanted to be a player who understands winning. Otherwise, he would have gone somewhere else where he could shoot 30 balls per game. Rob is not that kind of person, he's not that kind of player deep down inside and that's why he's here. He's learning to be that kind of player, the kind who succeeds in an environment like that every day."
After hitting the four three-pointers in a row, Dillingham actually had an open look at a fifth straight. Instead, he dished the ball to a wide open Antonio Reeves, who drilled the Cats' fifth straight triple. Coleman knows that Dillingham can distribute as well as he can score.
"He's a very unselfish player," Coleman said. "We've seen him make those sacrifice passes. All of our guys have to be like that because we have a lot of talent."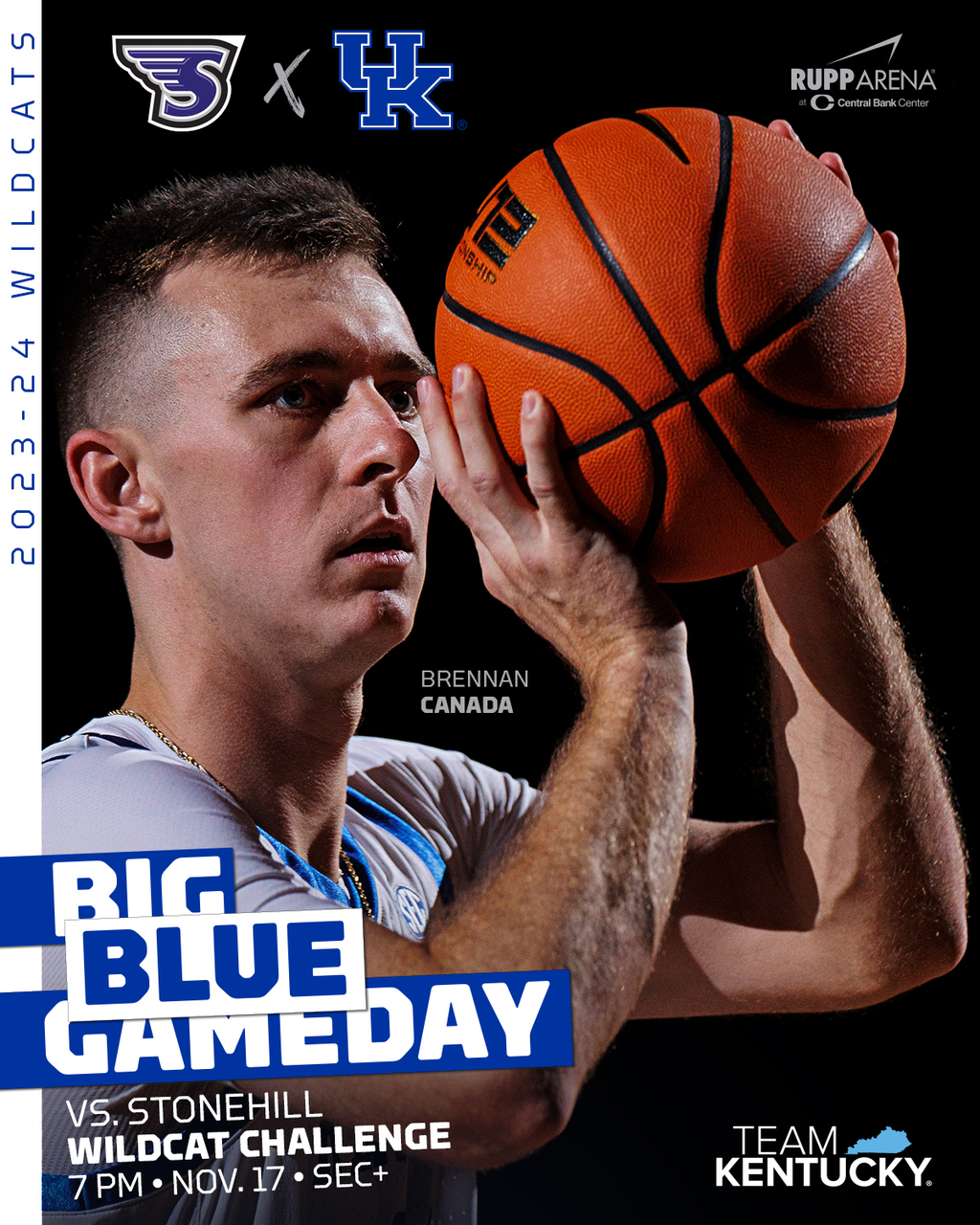 Kansas Recap
Heading into Tuesday night's Champions Classic in Chicago, No. 17 Kentucky was a clear underdog, facing top-ranked Kansas. The Jayhawks had more size and more experience than the young, talented but shorthanded Cats.
But Kentucky fought Kansas to the very end of Tuesday's game before the Jayhawks prevailed, winning 89-84.
Chicago native Antonio Reeves had 24 points for the Cats, while freshman Rob Dillingham had 18. Sophomore Adou Thiero had career highs in both points (16) and rebounds (13). Freshman Reed Sheppard had 13 points and four steals.
Kansas jumped out to an early 11-3 lead but Kentucky responded. The Cats scored eight in a row, including six by Mitchell,
to tie the game at 11-11. Kansas responded by scoring five straight before a pair of Sheppard threes gave the Cats a 17-16 advantage.
Kansas would score five in a row to lead 21-17 and the Jayhawks would lead 25-21 before Kentucky started a 3-point barrage. Dillingham hit four 3-pointers in a row to turn a four-point deficit into a 33-30 lead. And when Reeves hit another three, the Cats led by six and Kansas was forced to call a timeout.
The Jayhawks cut the UK lead to 37-34 before Thiero scored six in a row to make it 43-34 with 2:25 left in the first half. That was the start of an 11-2 run that gave Kentucky a 48-36 lead with 37 seconds left in the half. UK would take a 48-41 lead into the break behind 16 first half points from Dillingham.
Kentucky took a 71-70 lead on a Thiero free throw with 7:18 to play. Kansas took the lead back on a KJ Adams layup before Thiero converted a putback to make it 73-72 Cats. After a KU turnover, Reeves made a fast break layup, then added a free throw for a three point play to give UK a 76-72 advantage with 6:03 remaining.
Adams missed two free throws for Kansas and Kentucky extended the lead to 78-72 on a driving layup by Sheppard. Kansas
cut it to 78-75 before UK got a free throw from Tre Mitchell and two from Reeves to lead 81-75. But Kansas responded with an 10-2 run to take an 85-83 lead with 2:04 left.
A Mitchell free throw cut the KU lead to 85-84 with 1:33 remaining but Kansas got a Hunter Dickinson basket with 1:13 to play to lead by three.
Reeves had a pair of 3-pointers that could have tied the game with about one minute left in the game but neither would drop. After Kentucky got a defensive stop, the Cats were unable to get a good look at the basket and Kansas got the rebound. The Jayhawks converted a pair of free throws with five seconds left to provide the final margin of victory.
Taking Care of the Rock
Through three games this season, the young Cats value the rock. The Wildcats have committed just 17 total turnovers for an average of just 5.7 per game — which leads the country. UK's assist-to-turnover ratio is +2.5. That mark is good for sixth-best in the nation.
Against A&M-Commerce, Kentucky turned the ball over just three times. According to Big Blue History, of 1,633 UK games where turnovers are available, only two other games had fewer: Jan. 5, 2021 vs. Vanderbilt (2) and Dec. 20, 1983 vs. Cincinnati (2).
Per KenPom.com, UK's 7.8 turnover percentage ranks as the second-best in the country.